Daze - Minimal / Rounded theme
Hey - love the theme, but can I check if there's a way to edit the spacing between games listed in the details panel on the left hand side? There's slightly too much space between each of the games for my liking, and I'd prefer to be able to see more in one go.

I think this is similar to one of the other points raised above by n4tive.

Cheers!
03-05-2022, 04:21 PM (This post was last modified: 03-05-2022, 04:23 PM by justachild8.)
(01-26-2022, 10:30 AM)

SeeDborg Wrote: Hi, thanks for the theme, I love it !
I have a little request though... Could you release a version without the "not selected game darkened". I like to see well all my covers
Your theme is best but *Please* -> I would like this feature also. I want to see all my covers, darkened covers doesn't glorify my library.
07-20-2022, 05:42 PM (This post was last modified: 08-16-2022, 09:40 PM by Krystal_Lavander.)
Mod that remove transparency of unselected covers.
(It also move the stars down the game title, add borders and add a banner on the right detail panel)
here is the permeanent link
: 
Click Here
Instructions :
Install Super Dario's Daze theme like it said in the original post.

extract the archive in \Playnite\Themes\Desktop\Daze

The star rating system will use the community score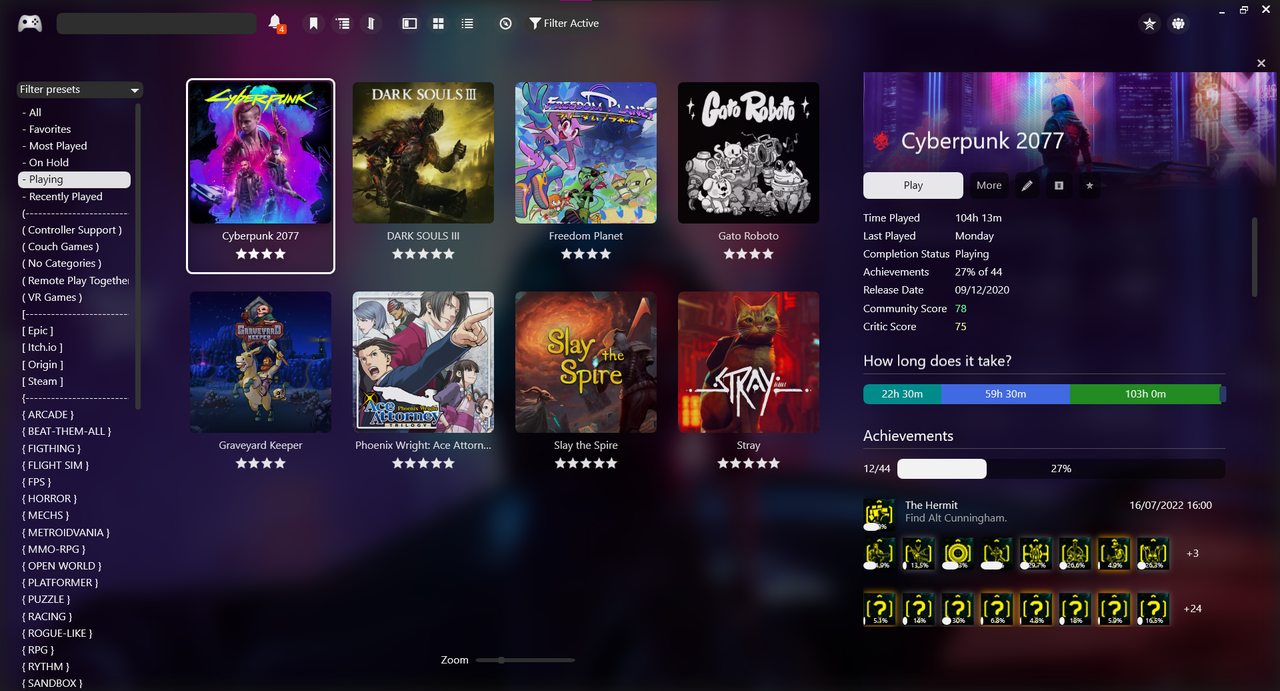 08-15-2022, 04:19 AM (This post was last modified: 08-15-2022, 04:23 AM by chickfilasauce.)
Just released an update!

v1.1

Changes:
- Improved animations when selecting games in grid view; selected games are also more easily identified.
- When using the "Show game names in Grid view" option, semi-transparent stars will now be displayed to indicate a game does not have any user score
- Adapted sidebar design to the theme
- Search bar, dropdowns, scrollbars and similar are now semi-transparent
- Improved design of top panel buttons, selected "view mode" buttons are now also highlighted in white
- Pop-ups and windows now have rounded corners
- Improved shadow effect for selected games in grid view
anyway to make the theme work with 1:1 aspect ratio (square) covers in grid view?
I am having a black bar under each cover because the theme is made for 3:4 aspect ratio
Hey there friend, amazing Theme. I was wondering how come I can not make my setup to look the same as yours (mine looks puffier compared to your flat style of cover art, and also the cover art for me looks way smaller).
https://imgur.com/nQZ5HT6
Is it possible to mark the edges? It is very difficult for me to write blindly, it is the biggest mistake I see in the theme. I have tried with the extension that helps to customize the Themes but I have not achieved anything. Please help.
https://i.postimg.cc/v8085GdT/Sin-t-tulo.png
Hi, I am having blur in details screen. Check below two images :
Daze Theme:
https://imgur.com/ES4mYnX
Original Theme:
https://imgur.com/1foGbLI
I love daze skin so can anyone please help me with this issue? Is it due to incompatibility with any plugin?
Thanks